Many people are concerned about Artificial Intelligence, Machine learning, and 5G, so please listen to Alexander Fleiss, the CEO of RebellionResearch.com talks about Artificial Intelligence, machine learning, and 5G. Let me know what you think about Artificial Intelligence after listening to Alexander Fleiss.
Alexander's Bio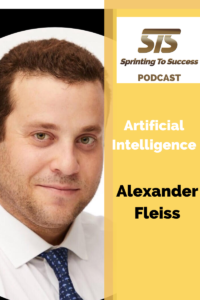 RebellionResearch.com's CEO Alexander Fleiss has spoken about Artificial Intelligence Investing in the Wall Street Journal, New York Times, Fox News, BusinessWeek, Bloomberg News, MIT Technology Review, Yomiuri Shimbun, Wired, Geo Magazine, The Economist and Institutional Investor. Chapter 24 of Wall Street Journal Reporter Scott Patterson's book Dark Pools is on Mr. Fleiss. Mr. Fleiss teaches at Cornell Financial Engineering, has guest taught at Amherst College for over a decade and Yale School of Management for 4 years. Prior to co-founding RebellionResearch.com, Mr. Fleiss was a Principal at KMF Partners LP, a long-short US equity hedge fund co-managed by John Merriwether of Michael Lewis' Liars Poker. Mr. Fleiss began his career managing an Amherst College-funded Ai research project, then as an analyst & programmer for Sloate, Weisman, Murray & Co which was acquired by Neuberger Berman. Mr. Fleiss developed investment algorithms with the firm's CEO, Laura Sloate who is now a partner at Neuberger Berman and one of the investors featured in Peter Tanous' book Investment Gurus. Mr. Fleiss received a BA Degree from Amherst College
"You are the only one keeping score, and it's your life to do with as you want."-Alexander Fleiss
Contact Alexander:
Contact Esmie:
Subscribe & Review in iTunes
Did you subscribed to my podcast?
If you're not, I want to encourage you to do that today. I don't want you to miss an episode.
https://apple.co/2Xk75Or 
PS. It's important to disclose that many of the links on the esmielawrence.com website are affiliate links. Which means that if you choose to make a purchase that I will earn a small commission. Which allows me to continue hosting the blog and website. This commission comes at no additional cost to you. Rest assured that the commission does not affect which items are listed on my website. Thank you for your support.
Show notes by Esmie Lawrence.  Audio production by Brian Calkins Podcast Mechanic
[podcast src="https://html5-player.libsyn.com/embed/episode/id/15732788/height/360/theme/standard/thumbnail/no/direction/forward/" width="100%" height="360″ scrolling="no" class="podcast-class" frameborder="0″ placement="bottom" use_download_link="" download_link_text="" primary_content_url="http://traffic.libsyn.com/sprintingtosuccess/Alexander_Fleiss.mp3″ theme="standard" custom_color="" libsyn_item_id="15732788″ /]