In this episode, Esmie and Daniel discuss:
Daniel retired from his job to care for his wife who was diagnosed with breast and skin cancer
His wife is his inspiration because of her perseverance and her resilience 
Also had pain from his dad passing away
He took better care of his work family than his own family
The false mirror
Key takeaways:
Never Give up
Stay in your own lane
Rely on God to solve your problems
Material things does not heal the heart
Stop seeing the reflection of how others see you 
Find your inner beauty
Be present for your loved ones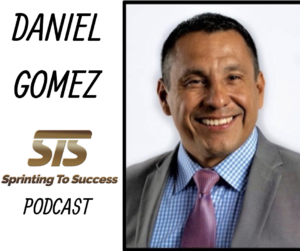 Daniel Gomez
Daniel is a Powerful Motivational Keynote Speaker with 14 years experience in the arena of Leadership Development & Team Building, Sales Mastery, Customer Service, and Confidence Coaching. He is the International Best Selling Author of "You Were Born to Fly", a book written to inspire and give people the high-performance habits and confidence needed to be the leaders of their own destiny.
Quote of the day: "You're not a true entrepreneur until you're in the restroom, and you have cried, and you are 99.9% convinced you are going to give up, and you don't give up. The reason I didn't give up is because my wife never gave up on her family."-Daniel Gomez
Contact Daniel:
Daniel's free gift: https://danielgomezinspires.com/12-week
Daniel's book: You Were Born To Fly: https://amzn.to/2WqMyGA
Facebook: https://www.facebook.com/profile.php?id=100000348900620
Linkedin: https://www.linkedin.com/in/daniel-gomez-3345876/
Instragram: https://www.instagram.com/danielgomezspeaker/
           Contact Esmie:
Esmie's New book, How To Embrace Challenges: Step Into Your Power: https://esmielawrence.com/books-by-esmie/
Linkedin: https://www.linkedin.com/in/esmie-lawrenceoly/
Facebook: https://www.facebook.com/SuccessCoachEsmieLawrence/
Instagram: https://www.instagram.com/esmie.lawrence/?hl=en
Youtube:https://www.youtube.com/cha…/UCeQpiIow5rAACyn2eaWRgJA/videos
Subscribe & Review in iTunes
Did you subscribed to my podcast? If you're not, I want to encourage you to do that today. I don't want you to miss an episode. https://apple.co/2Xk75Or PS. It's important to disclose that many of the links on the esmielawrence.com website are affiliate links. Which means that if you choose to make a purchase that I will earn a small commission. Which allows me to continue hosting the blog and website. This commission comes at no additional cost to you. Rest assured that the commission does not affect which items are listed on my website. Thank you for your support.
Show notes by Esmie Lawrence
Audio production by Brian Calkins Podcast Mechanic
[podcast src="https://html5-player.libsyn.com/embed/episode/id/15732899/height/360/theme/standard/thumbnail/no/direction/forward/" width="100%" height="360″ scrolling="no" class="podcast-class" frameborder="0″ placement="bottom" use_download_link="" download_link_text="" primary_content_url="http://traffic.libsyn.com/sprintingtosuccess/_Daniel_Gomez-.mp3″ theme="standard" custom_color="" libsyn_item_id="15732899″ /]