On this podcast, Dr. Rhobeta Shaler will educate you about Hijackals. Dr. Shaler had challenges in her life, she was raised in a toxic home with Hijackal parents. She didn't feel loved, and her mom didn't want her. Dr. Shaler will educate you on how to identify Hijackals,  show you how to manage Hijackals in the workplace and set boundaries with them. She also teaches you how to manage passive-aggressive co-workers. If you are a teacher, Dr. Rhobeta will show you how to identify children who live with Hijackal parents.
Dr. Rhoberta Shaler Short Bio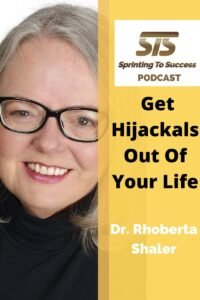 Dr. Rhoberta Shaler, Relationship Consultant, Podcaster, and Author, empowers the partners, exes, adult children, and co-workers of the relentlessly difficult, toxic people she calls Hijackals® to recognize emotional abuse, realize the effects, heal, and transform. She helps them see clearly, stop the crazy-making, and save their sanity.  
"Hijackals paint a public picture of perfection, and at home they create a private place of pain "-Dr. Rhoberta Shaler
Contact Dr. Rhoberta Shaler
Contact Esmie:
Subscribe & Review in iTunes
Did you subscribed to my podcast?
If you're not, I want to encourage you to do that today. I don't want you to miss an episode.
https://apple.co/2Xk75Or 
PS. It's important to disclose that many of the links on the esmielawrence.com website are affiliate links. Which means that if you choose to make a purchase that I will earn a small commission. Which allows me to continue hosting the blog and website. This commission comes at no additional cost to you. Rest assured that the commission does not affect which items are listed on my website. Thank you for your support.
Show notes by Esmie Lawrence.  Audio production by Brian Calkins Podcast Mechanic
[podcast src="https://html5-player.libsyn.com/embed/episode/id/15732800/height/360/theme/standard/thumbnail/no/direction/forward/" width="100%" height="360″ scrolling="no" class="podcast-class" frameborder="0″ placement="bottom" use_download_link="" download_link_text="" primary_content_url="http://traffic.libsyn.com/sprintingtosuccess/Dr_Rhoberta_Shaler.mp3″ theme="standard" custom_color="" libsyn_item_id="15732800″ /]