In this episode, Esmie and Lisa discuss:
Challenges of adulthood.

Growing up without riches

How to have engaged employees and avoid having a toxic work environment?

Tips on staying happy when you encounter toxic people.

How to treat toxic people

Key Takeaways:

Never forget who you truly are. In life, it is important to know what is meant for your abilities so that precious time is not wasted.

Never settle for a toxic relationship. It is a huge unprofitable risk.

A toxic work environment forms because of poisonous leadership and a lack of employee engagement. 

You decide whether you are sad or happy, do not let others bring you down.

Make an effort to be positive around toxic people, be the bigger person and acknowledge the situation. If this fails, decrease time with the individual or cut them off.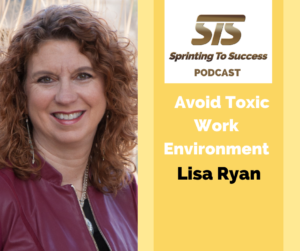 Lisa Ryan, CSP, helps organizations develop employee engagement strategies that keep their top talent from becoming someone else's. Lisa is a Certified Speaking Professional and best-selling author of ten books. She also has served on many non-profit boards, including serving two terms as President of the National Speakers Association, Ohio Chapter.
"When you create a spot in your life, you leave that job, or you get rid of that toxic person out of your life, it expands to bring in somebody else to fill that and hopefully a more positive person or a more, you know, positive workplace environment." –Lisa Ryan
PS. It's important to disclose that many of the links on the esmielawrence.com website are affiliate links, which means that if you choose to make a purchase, I will earn a small commission, which allows me to continue hosting the blog and website. This commission comes at no additional cost to you. Rest assured that the commission does not affect which items are listed on my website. Thank you for your support.
Show notes by Esmie Lawrence.  Audio production by Brian Calkins Podcast Mechanic
#lifecoachtraining #womensnetwork #livebydesign #betterbusiness #businesswisdom #thinkbigger #businessleader #coachingforwomen #mindsetmakeover #aspiringentrepreneur #healthcoachtips #healthymindset #lifecoachinghappiness #womenempowering #sheboss
[podcast src="https://html5-player.libsyn.com/embed/episode/id/17657054/height/360/theme/standard/thumbnail/no/direction/forward/" width="100%" height="360″ scrolling="no" class="podcast-class" frameborder="0″ placement="bottom" use_download_link="" download_link_text="" primary_content_url="http://traffic.libsyn.com/sprintingtosuccess/_Lisa_Ryan.mp3″ theme="standard" custom_color="" libsyn_item_id="17657054″ /]