In this episode, Esmie and Lisa discuss:
Lessons learned from childhood days.

Overcoming the struggles of adulthood.

How stress affects our bodies?

Good nutrition and Mindfulness.

How to manage stress?

Growing up in a single-parent home can teach you the value of hard work.
Key takeaways:
Good physical health begins with the mind.

Do not get absorbed by comfort and forget what got you there in the first place. Maintain acceptable practices daily.

We can use Mindfulness to respond better to our emotions.

If you want to have less stress, it's best to practice breathing and Mindfulness all through the day rather than waiting till the end of the day to try and distress.

Cher Brasok Bio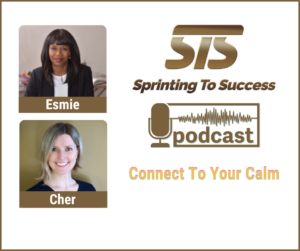 When stress destroyed her health, Cher Brasok's recovery was dependent on learning how to better cope. As the founder of Connect to your Calm, Cher is now on a mission to inspire people to tune in, take charge of their stress levels and find out what works best for them!
"It's those small, consistent actions that we do on a daily basis that make more of an impact than doing 20 minutes once a month." – Cher Brasok
Contact Cher:
Linkedin
Facebook
Website
Contact Esmie:
Linkedin
Facebook
Instagram
Youtube

PS. It's important to disclose that many of the links on the esmielawrence.com website are affiliate links, which means that if you choose to make a purchase, I will earn a small commission, which allows me to continue hosting the blog and website. This commission comes at no additional cost to you. Rest assured that the commission does not affect which items are listed on my website. Thank you for your support.
Show notes by Esmie Lawrence.  Audio production by Brian Calkins Podcast Mechanic
#lifecoachtraining #womensnetwork #livebydesign #betterbusiness #businesswisdom #thinkbigger #businessleader #coachingforwomen
[podcast src="https://html5-player.libsyn.com/embed/episode/id/17747888/height/360/theme/standard/thumbnail/no/direction/forward/" width="100%" height="360″ scrolling="no" class="podcast-class" frameborder="0″ placement="bottom" use_download_link="" download_link_text="" primary_content_url="http://traffic.libsyn.com/sprintingtosuccess/Cher_Brasok.mp3″ theme="standard" custom_color="" libsyn_item_id="17747888″ /]