Are you a former athlete and want to share your knowledge? Well, look no further. Fabienne Raphaël was on the Canadian National Team. She now helps athletes build their consulting and coaching business so you can get paid for your knowledge. Work with Fabienne and profit from your expertise.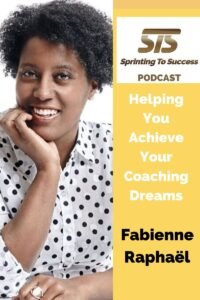 Fabienne Raphaël is a business-building coach, speaker, and podcaster. With her high level of energy and radiance, she helps aspiring and underpaid coaches become highly paid experts by building their dream coaching/consulting business, so they can live their life purpose.
"Failing is like a perception because it could be just learning…you always learn something from it."-Fabienne Raphaël 
Contact: Fabienne 
Contact Esmie:
Subscribe & Review in iTunes
Did you subscribed to my podcast?
If you're not, I want to encourage you to do that today. I don't want you to miss an episode.
https://apple.co/2Xk75Or 
PS. It's important to disclose that many of the links on the esmielawrence.com website are affiliate links. Which means that if you choose to make a purchase that I will earn a small commission. Which allows me to continue hosting the blog and website. This commission comes at no additional cost to you. Rest assured that the commission does not affect which items are listed on my website. Thank you for your support.
Show notes by Esmie Lawrence.  Audio production by Brian Calkins Podcast Mechanic
[podcast src="https://html5-player.libsyn.com/embed/episode/id/15732797/height/360/theme/standard/thumbnail/no/direction/forward/" width="100%" height="360″ scrolling="no" class="podcast-class" frameborder="0″ placement="bottom" use_download_link="" download_link_text="" primary_content_url="http://traffic.libsyn.com/sprintingtosuccess/Fabienne_Raphael.mp3″ theme="standard" custom_color="" libsyn_item_id="15732797″ /]