In this episode Esmie and Jackie discuss:
Jackie's scuba diving accident and how she spent three days in critical condition and 6-weeks in recovery
Reflected on her life, and decided on a new path, helping others become confident and more successful
Work according to her Passion, teaching sales and business owners define their skill still to become the top 1% in their industry
People fear the sales experience because they have been through it before
The different ways people buy now
Selling is Emotional; based on scientific research
Her peers called her the rainmaker
The mistakes she made in becoming an expert seller
There are four different personality types, and we need to sell to each of them differently: millennials, boomers, men, women
Key takeaways:
We all have two tapes; I am not good enough, and I don't belong.
Modern selling is building trust, credibility, authenticity, and authority with your clients.
Every salesperson should create a personal brand on social media. Social media is everything these days
Identify your market and where they hang out, for example, LinkedIn, Facebook or Instagram
Communicate and interact on social media by posting, doing videos, and build your brand. with them
The secret to success in social media and selling is not about selling, it about educating, providing and giving value
Write down stretch goals and write down why.
Dream big and visualize big 
Put your Family first
Push pass your fears
Don't sweat the small stuff
Stay away from Basement people who will drag you down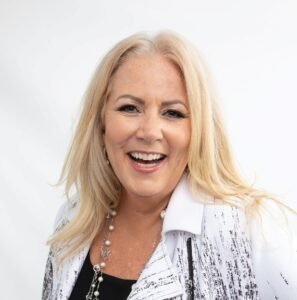 Jackie Rainforth
Jackie is a record-breaking, award- winning, Sales Expert. Nicknamed THE RAINMAKER by her peers. She is also the Author of the upcoming book: 'THE BAD ASS GUIDE TO SUPERSTAR SELLING'. With a Corporate and Entrepreneurial sales background, her achievements include…. the coveted-nomination of the 'RBC Woman Entrepreneur of Canada Award'.
Quote of the day: "There are so many ways that you can interact on social media these days, talk about your personal life a bit, hey, who are you? People get a feel, the more they see you they recognize you. They understand that your values and your level of Integrity matches there's, they are going to trust you, and that's what selling today is all about, it's about building credibility and trust, and social media helps you do that." – Jackie Rainforth
Contact Jackie
Jackie's book:The Badass Guide To Superstar Selling  https://bit.ly/2MmhzLn
Website: https://rainmakersgroup.ca
Twitter: https: //twitter/JackieRainforth
Linkedin: https://ca.linkedin.com/in/jackierainforth
Youtube: https:www.u-tube.com/embed/FhgsB097Hkw
Contact Esmie:
Esmie's New book, How To Embrace Challenges: Step Into Your Power: https://esmielawrence.com/books-by-esmie/
Linkedin: https://www.linkedin.com/in/esmie-lawrenceoly/
Facebook: https://www.facebook.com/SuccessCoachEsmieLawrence/
Instagram: https://www.instagram.com/esmie.lawrence/?hl=en
Youtube:https://www.youtube.com/channel/UCeQpiIow5rAACyn2eaWRgJA
Subscribe & Review in iTunes
Did you subscribed to my podcast? If you're not, I want to encourage you to do that today. I don't want you to miss an episode. https://apple.co/2Xk75Or PS. It's important to disclose that many of the links on the esmielawrence.com website are affiliate links. Which means that if you choose to make a purchase that I will earn a small commission. Which allows me to continue hosting the blog and website. This commission comes at no additional cost to you. Rest assured that the commission does not affect which items are listed on my website. Thank you for your support.
Show notes by Esmie Lawrence
Audio production by Brian Calkins Podcast Mechanic
[podcast src="https://html5-player.libsyn.com/embed/episode/id/15732878/height/360/theme/standard/thumbnail/no/direction/forward/" width="100%" height="360″ scrolling="no" class="podcast-class" frameborder="0″ placement="bottom" use_download_link="" download_link_text="" primary_content_url="http://traffic.libsyn.com/sprintingtosuccess/Jackie_Rainforth.mp3″ theme="standard" custom_color="" libsyn_item_id="15732878″ /]