In this episode, Esmie and Janene discuss:
 Lives in Switzerland since July 31st of 2001
Went through burnout during her corporate job, she was crying all the time. Went on burnout leave for a few months
Decided to change direction of her life
Traveled around the world, visiting the different legal entities of the companies and helping them improve how they were doing pricing
Key takeaways:
Price according to your worth
Pricing is a tool you can use in your business, not just something you have to do. It's a tool that you can utilize in your business in many different ways and once you start to see it as a tool, you develop a different relationship with it and then a different understanding of how to use it in your business.
Your prices have to be rooted in a deep understanding of your target customer.
If your target customer is a bargain shopper then you're going to be closer to the price taker end of the spectrum. But if you're selling or your target customer is looking for premium services, then you're going to be more towards the price maker end of the spectrum.
Janene Liston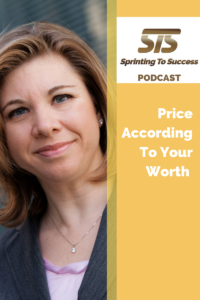 Janene Liston the Pricing Lady, is a Certified Pricing Professional, an entrepreneur and a Public Speaking Champion. She has 20 years of experience in product marketing and pricing. She has successfully worked with small businesses worldwide to build their profitability via improved pricing. Watch out…Janene's passion for pricing is contagious.    
"There's two important parts of the equation and the first is, your prices have to be rooted in a deep understanding of your target customer. So the first element is customer. The second element is understanding how that works for your business. And a lot of times what we do is we start with, "I'm good at laying bricks, so I'm going to start my own construction company and I'm going to lay bricks." But you don't actually know if the customer needs someone to lay bricks. Maybe that's not what they need. So that's what I mean by first understand who the customer is and what their problem, their need, desire or their wanted transformation is and then work from there to make sure that that aligns with what you want to deliver and can deliver. So the first thing that we do is really dig into who your target customer is and what that means in terms of what you're going to deliver because if you're not clear on the who you're targeting and the what you're selling, then it's really hard to price.." – Janene Liston
Quote of the day:

Success is most often achieved by those who don't know that failure is inevitable – Coco Chanel.
 Contact Janene: 
Website: https://janeneliston.com
Twitter: https://twitter.com/JaneneList
Linkedin: http://linkedin.com/in/janenelistoncpp
Facebook: https://www.facebook.com/JaneneList/
Contact Esmie:
Esmie's New book, How To Embrace Challenges: Step Into Your Power:
https://esmielawrence.com/books-by-esmie/
Linkedin: https://www.linkedin.com/in/esmie-lawrenceoly/
Facebook: https://www.facebook.com/SuccessCoachEsmieLawrence/
Instagram: https://www.instagram.com/esmie.lawrence/?hl=en
Subscribe & Review in iTunes
Did you subscribed to my podcast? If you're not, I want to encourage you to do that today. I don't want you to miss an episode. 
PS. It's important to disclose that many of the links on the esmielawrence.com website are affiliate links. Which means that if you choose to make a purchase that I will earn a small commission. Which allows me to continue hosting the blog and website. This commission comes at no additional cost to you. Rest assured that the commission does not affect which items are listed on my website. Thank you for your support.
Show notes by Esmie Lawrence
Audio production by Brian Calkins Podcast Mechanic
[podcast src="https://html5-player.libsyn.com/embed/episode/id/15732902/height/360/theme/standard/thumbnail/no/direction/forward/" width="100%" height="360″ scrolling="no" class="podcast-class" frameborder="0″ placement="bottom" use_download_link="" download_link_text="" primary_content_url="http://traffic.libsyn.com/sprintingtosuccess/Janene_Liston_STS.mp3″ theme="standard" custom_color="" libsyn_item_id="15732902″ /]