In this episode, Esmie and Karen discuss:
She and her dad are native Calgarians. Her father also played professional football for the Calgary Stampeders
She worked as a flight attendant for 25 years, before retiring
She struggled with not feeling good enough and struggled for a long time trying to figure out how she was going to make changes in her life 
The airline industry was a toxic environment for her and  it was starting to affect her well being and her health.
As a child she would be organizing the chocolate bars, the gum, candy bars at the checkout
She became a professional organizer. joined NAPO, which is the National Association of Productivity and Organizing Professionals
Key takeaways:
She helps her client use system to organize their space and change their environment  from  chaos and clutter to clutter free, calm, and easier living

She prepare her clients for a change in their mental attitude

Gives her client strategies to buy and  keep only what they absolutely love, use or need
You are not really alone and everybody has struggles to varying degrees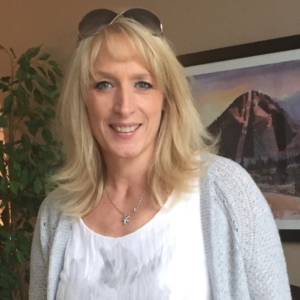 Karen Allbright
Karen is an Organizational Design Specialist who specializes in home organization and move related services. She has been recognized 4 years in a row for her excellence in customer service from Houzz and has appeared on CBC, Avenue Magazine, the City Pallet, Entrepreneur Magazine the Calgary Journal. She is a member of NAPO' Golden Circle, – National Association of Productivity and Organizing Professionals.        
"When I work with a client, I'm going to look at their habits, I'm going to look at how they live, what they use. And then we create something personalized to them. So everybody's level of organization is different. And what works for one may not work for somebody else. So some people might like everything perfectly folded, color coordinated, looking like a magazine picture. The next client is like, "Oh my God, if it just makes it into a bin, I'm happy." So yeah, it's a lot of times, we'll look at the entire space."  -Karen Allbright
Quote Of The Day

You can have everything in life you want, if you will just help others get what they want.

– Zig Ziglar
Contact Karen:
Website: https://calmorder.com
Twitter: https://twitter.com/CalmOrder
Linkedin: https://www.linkedin.com/in/calmorder/
Instagram: https://www.instagram.com/calmorder_organizing/
Contact Esmie:
Esmie's New book, How To Embrace Challenges: Step Into Your Power: https://esmielawrence.com/books-by-esmie/
Linkedin: https://www.linkedin.com/in/esmie-lawrenceoly/
Facebook: https://www.facebook.com/SuccessCoachEsmieLawrence/
Instagram: https://www.instagram.com/esmie.lawrence/?hl=en
Show notes by Esmie Lawrence
Audio production by Brian Calkins Podcast Mechanic
[podcast src="https://html5-player.libsyn.com/embed/episode/id/15732905/height/360/theme/standard/thumbnail/no/direction/forward/" width="100%" height="360″ scrolling="no" class="podcast-class" frameborder="0″ placement="bottom" use_download_link="" download_link_text="" primary_content_url="http://traffic.libsyn.com/sprintingtosuccess/Karen_Allbright_STS.mp3″ theme="standard" custom_color="" libsyn_item_id="15732905″ /]