In this episode, Esmie, Stephen and  Sonji discuss:
Stephen had a dysfunctional family, and his mother was mentally ill
Stephen was physically abused and dropped out of high school at an early age
Married four times, experienced bankruptcy and foreclosure
Sonji grew up in a loving and stable family environment
Stephen resented his mom
Challenges of co-parenting with different parenting styles
Sonji when through job displacement and felt inadequate
Key takeaways:
Many of the things that are limiting us today are things that were told to us as a child
Change your thinking, and you can change your life
In marriage, you must communicate and share your thoughts and feelings in a safe and calm environment
You cannot carry your baggage from a previous marriage into your present marriage
You can't assume that your partner has the same ideas about money. Therefore you must talk about money because of different upbringing
Identify your negative limiting beliefs by using the acronym B.L.I.S.S
You need an accountability partner to keep you going
Stephen and Sonji Millet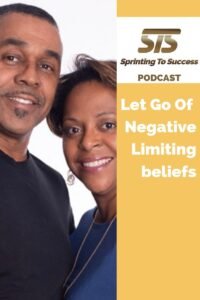 Stephen and Sonji Millet are transformational speakers and life coaches. This couple have been through dysfunctional childhoods, multiple marriages, job displacement bankruptcy, foreclosure, behind on taxes and the challenges of co-parenting, depression, relationship friction—but individually and together they overcame ALL, by commanding themselves to TALK STRAIGHT DAMMIT!
Contact Stephen and Sonji
Website: https://myblisstopia.com/
Youtube: https://www.youtube.com/channel/UCiISMKh-aPdP6QGLDhitSCw Facebook: http://www.facebook.com/myblisstopia/
Twitter: https://twitter.com/theblissdoctor
Stephen and Sonji's book: https://amzn.to/2YAxgV4
Quote of the day: "When you have actions that you can continue to do then you can keep moving, and as long as you get up and put one foot in front of the other, and you start doing something, you will eventually come out of it, but if you stand still, if you stand in the story instead of on the story you won't go anywhere."  -Sonji Millet
Contact Esmie:
Esmie's New book: How To Embrace Challenges: Step Into Your Power: https://esmielawrence.com/books-by-esmie/
Linkedin: https://www.linkedin.com/in/esmie-lawrenceoly/
           Facebook: https://www.facebook.com/SuccessCoachEsmieLawrence/
Instagram: https://www.instagram.com/esmie.lawrence/?hl=en
                                Youtube: https://www.youtube.com/channel/UCeQpiIow5rAACyn2eaWRgJA
Subscribe & Review in iTune
Did you subscribed to my podcast? If you're not, I want to encourage you to do that today. I don't want you to miss an episode. https://apple.co/2Xk75Or PS. It's important to disclose that many of the links on the esmielawrence.com website are affiliate links. Which means that if you choose to make a purchase that I will earn a small commission. Which allows me to continue hosting the blog and website. This commission comes at no additional cost to you. Rest assured that the commission does not affect which items are listed on my website. Thank you for your support.
Show notes by Esmie Lawrence
Audio production by Brian Calkins Podcast Mechanic
[podcast src="https://html5-player.libsyn.com/embed/episode/id/15732884/height/360/theme/standard/thumbnail/no/direction/forward/" width="100%" height="360″ scrolling="no" class="podcast-class" frameborder="0″ placement="bottom" use_download_link="" download_link_text="" primary_content_url="http://traffic.libsyn.com/sprintingtosuccess/Stephen_and_Sonji_Millet.mp3″ theme="standard" custom_color="" libsyn_item_id="15732884″ /]